French knot is one of basic element of embroidery that have been usually made for flowers, polkadots and also eyes for bear/animals. the shape will be round and it usually wrap the thread around the needle two or five times. it depends on your fabric's size. iam using 11 CT fabric and it need 5 times for wrap the thread around the needle :)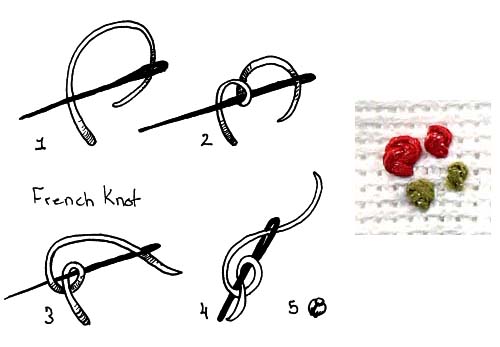 picture taken from : www.kreinik.com
these are the basic step for making the simple french knot:
1) pull your thread out to the top of fabric
2) wrap the thread to needle around two until five times
3) Push the needle down through the fabric just next to where it came out first, holding the thread tight in your fingers. Pull the needle through the knot to the back of the fabric. make sure you holding tight because it can be lose easily
4) voila your first french knot already done!
p.s : you can try first to another fabric before trying in your project. it takes patience and hard effort to make it. don't worry, practice will makes perfect!
Another french knot tutorial website that will be helpful :